The Campaign Strategies of Jonathan & Atiku
Articles, Columnists, Elections 2011, Jideofor Adibe, PhD, Party Politics, Peoples' Democratic Party (PDP)
Saturday, January 1st, 2011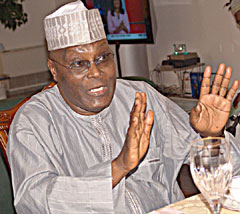 By Dr. Jideofor Adibe, London, UK – Jan. 1, 2011 – As the PDP primaries draw near, it may be worth reviewing some of the campaign strategies deployed by the two main candidates for the PDP ticket – President Goodluck Jonathan and Atiku Abubakar. How have these Campaigns sought to market their principals? How do they define their rival? And what are their strategies for damage control? 
Marketing their Principals
From the time he formally declared his interest in the 2011 presidential race, the Goodluck Ebele Jonathan (GEJ) Campaign has built the thrust of its political marketing on a 'moving train' narrative – basically that every one is queuing up to join its bandwagon. It constantly rolls out a wave of endorsements, some apparently contrived, to support this story line. Jonathan is also marketed as being divinely ordained to rule – and therefore likely bring good luck to Nigerians, if elected.
The Atiku Campaign Organisation tries to reap political capital out of the fact that its principal developed a policy document as early as 2006 by marketing it as evidence of thorough preparedness for the job. Consequently Atiku, through his Campaign, regularly throws a debating challenge to Jonathan in apparent bid to showcase his preparedness for the job, and Jonathan's apparent unpreparedness for it.
In addition to marketing their candidates on substantive issues, the Campaigns also engage in nuanced marketing of certain intangible attributes of their principals. For instance the Atiku Campaign appears to play up two main posters – one in which he is wearing the traditional ''Hausa babariga and 'Hausa cap' – apparently to appeal to his Northern constituency and another in which he is attired in suit and tie – apparently to showcase him as corporate person who is not clannishly tied to any ethnic group. This is perhaps to use innuendo to define Jonathan, who almost always wears 'Ijaw hat' as a regional/ethnic candidate with limited exposure. The Jonathan Campaign on the other hand tries to exploit some appurtenances of office – such as playing up a telephone call made by President Obama to President Jonathan for his handling of the crisis in Ivory Coast. The aim is to make him look like a statesman who is respected by other world leaders.
Defining their opponent
Campaigns usually try to aggressively negatively define their opponents through simple words/phrases in a bid to put such candidates on the defensive.  For instance in the last presidential election in the USA, Obama constantly reminded voters that a vote for his rival, John McCain,  would be 'four more years' for the then hugely unpopular George W Bush. The Jonathan Campaign has sought to define Atiku by almost always wrapping 'corruption' or 'desperate for power' in most messages it sends out about Atiku. 
Though the Atiku Campaign has been attacking Jonathan's economic policies repeatedly, it has so far not tried hard enough to wrap these criticisms around such simple negative defining words/phrases as 'incompetence' or 'not to be trusted.'
Exploiting gaffes
It is not abnormal for campaigns to go into scaremongering by exploiting gaffes or even mischievously quoting an opponent out of context. For instance the Atiku Campaign maximally exploited Jonathan's ill-advised hasty exoneration of MEND during the October 1 bombing in Abuja. The Atiku Campaign also came up with advertorials which tried to exploit the statement credited to President Jonathan where he allegedly threatened PDP Governors that if they failed to support his candidacy, he would not go down alone. 
The GEJ Campaign similarly exploited the statement made by Atiku during a stakeholders' conference on December 15, 2010 where he quoted Frantz Fanon's warning that those who make peaceful change impossible make violent change inevitable. The Jonathan Campaign deliberately omitted the part of the speech where Atiku said that such a violent change was not what the country needed at this time, and instead twisted the message to imply that he was preaching violence.  After the 1983 election, one of the newspapers supporting the late Obafemi Awolowo, who was then challenging the results of the election, constantly carried on its front page window the same quote by Fanon without anyone trying to make a political capital out of it. 
Damage Control
 In campaigns, mistakes are inevitable just as embarrassing documents docking up are always a given. Most campaigns have damage control strategies for such eventualities.  For instance following the successful exploitation of the gaffes committed by President Jonathan in response to the October 1 bombing incident, and Henry Orkah's interview with Al Jazeera, the GEJ Campaign first sought to discredit the interview by raising doubts about whether the person who granted the interview was actually Orkah. It also attacked Al Jazeera's motives in conducting the 'fake' interview. However after Orkah repeated the same interview to several media houses, including the Financial Times of London, the GEJ Campaign shifted strategy and began labelling him a serial liar. 
In a recent PDP NEC meeting, Jonathan reportedly suffered a humiliating defeat when the Governors allegedly rejected his preference that the presidential primary should come ahead of other primaries. To blunt the impact of that defeat, his Campaign cleverly orchestrated the President's endorsement by 21 PDP Governors – despite the fact that nearly all of the said Governors had previously endorsed him, some more than once. The Campaign also began rolling out a wave of other endorsements, some apparently contrived, to blunt the impact of that humiliation. 
The Atiku Campaign on its own responded to the exploitation of their principal's quote of Frantz Fanon by the Jonathan Campaign by buying advertorials in newspapers and highlighting the part of the speech where Atiku said that violent change 'is not what the country needs now' (but which the Jonathan Campaign deliberately left out). Their aim was to show that the quote attributed to Atiku was taken out of context.  It also went on offensive by taking issues with Jonathan over a document which claimed that a Presidential Task Force set up in 2006 by then President Obasanjo had found Jonathan guilty of false declaration of assets. By so doing, it succeeded in forcing the GEJ Campaign on the defensive on another front. 
 Recently the Atiku Campaign admitted that it circulated a 'rigging roadmap', which it said was authored by the Jonathan Campaign.  The Jonathan Campaign first claimed the document was "a badly cloned version of its working document", then denied any association with it and finally went on the offensive accusing Atiku of desperation and of trying to blackmail the President. For both Campaigns, their damage control strategies appear to be to defend and attack from another front.
 The author can be reached at: pcjadibe@yahoo.com
Short URL: http://newnigerianpolitics.com/?p=1415
Posted by
admin
on Jan 1 2011. Filed under
Articles
,
Columnists
,
Elections 2011
,
Jideofor Adibe, PhD
,
Party Politics
,
Peoples' Democratic Party (PDP)
. You can follow any responses to this entry through the
RSS 2.0
. You can leave a response or trackback to this entry