Breaking news: Ex vice president Dr. Alex Ekwueme, is dead (RIP)
Headlines
Monday, November 20th, 2017
Monday, November 20th, 2017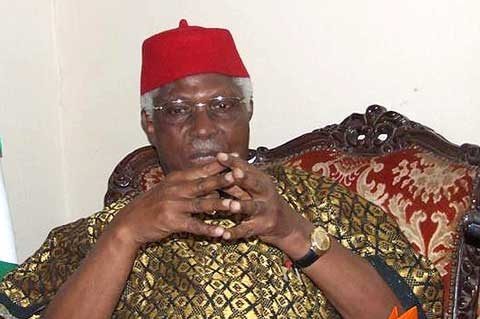 Photo: Dr Alex Ekwueme
Ex- Nigeria's Vice President, of Dr Alex Ekwueme is dead, after battling with a complicated chest infection.
The deceased who is in his 80s, and hails from Oko community, in Orumba  council area of Anambra state, was the Vice to the 2nd Republic president of Nigeria, Alhaji Shehu Shagari.
He was initially admitted into an Enugu based private hospital, Memfys Neurosurgery after he slumped in his Enugu residence.
Ekwueme, who was a former member of the  People's Democratic Party,  PDP Board of Trustee (BOT) , later went  into coma at the Enugu hospital, before being flown abroad last week in an air ambulance provided by the federal government.
His demise was announced on Sunday in a  statement issued by his family which was signed by his younger brother and the traditional ruler of Oko community, Igwe professor  Laz Ekwueme.
According to the statement, the elder statesman,  passed on by 10:00pm in a London hospital on  Sunday.
"Ekwueme family regrets to announce the peaceful passing away of their patriarch, the former Vice-President of the Federal Republic of Nigeria Dr Alex Ifeanyichukwu Ekwueme GCON.
The statement says: "The sad event occurred at the London Clinic at 10:00 pm on Sunday 19th November 2017."
-African Examiner
Short URL: http://newnigerianpolitics.com/?p=49305